Eat Fat Look Thin
by Bruce Fife, N.D.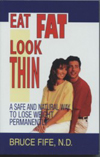 £24
Free Delivery with in UK


Bruce Fife scores another winner! I couldn't put this new book down ...
It follows hot on the trail of "The Healing Miracles of Coconut Oil" and is just as easy to read and has some wonderful recipes.
To whet your appetite, these are the Chapter titles:
- Eat Fat and Lose Weight
- Big Fat Lies
- Are You In Need of An Oil Change?
- What You Should Know About Cholesterol
- The Truth About Saturated Fat
- Carbohydrates: Friend or Foe?
- Calories and Appetite
- Malnutrition Can Make You Fat
- How to Supercharge Your Metabolism
- Satisfy Your Hunger Longer
- Drink More, Weigh Less
- Step Toward A New You
- The Healthy Lifestyle Plan
- The Low-Carbohydrate Coconut Diet
- The Raw-Foods Coconut Diet
- Recipes
If for whatever reason you can't lose weight, then you need to read this book!